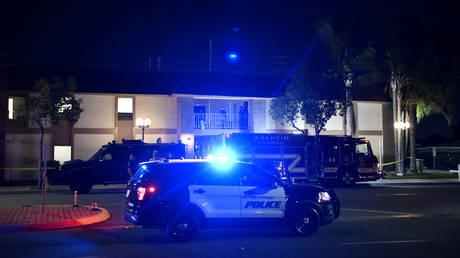 Four people are dead after a gunman opened fire at an office complex in Orange, California, with a child believed to be among the victims. One police officer exchanged gunfire with the suspect, who was injured in the shootout.
The Orange Police Department said it responded to a call of shots fired around 5:30pm local time on Wednesday, adding that officers "located multiple victims" after arriving at the scene, including fatalities. 
Footage purporting to show officers tussling with the shooter as they brought him into custody has made the rounds online.
Orange, CA: Police responded to a call of shots fired at 202 W. Lincoln Ave. Officers arrived as shots were being fired and located multiple victims at the scene including fatalities. An officer involved shooting occurred. – Footage just after the gunshots:*Not LA* pic.twitter.com/zKJnSmaCRu

— Insider Paper (@TheInsiderPaper) April 1, 2021
"The situation has been stabilized and there is no threat to the public," the department said in a statement on Facebook, also noting that "an officer involved shooting occurred" without offering further detail.
Paramedics treated a total of six patients and transported two to a local hospital, according to Orange Fire Department Dispatch Supervisor Sam Ahumada, among them the suspect, who was reportedly wounded by an officer as the two exchanged shots.
Think your friends would be interested? Share this story!