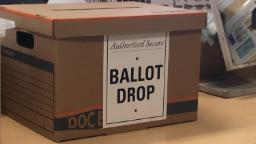 The dropbox debacle, triggered by California Republicans who appeared to violate state laws, immediately injected new chaos into the frenzied and unprecedented 2020 election process.
The coronavirus pandemic has led to historic interest in mail-in voting, but President Donald Trump and the GOP have spent months
attacking the integrity of mail ballots
and fighting in court against dropboxes. The California dispute is the latest flashpoint in this ongoing battle.
"Whether or not it is technically legal, it's extremely problematic for voters," said CNN election law analyst Rick Hasen, who is also a law professor at the University of California, Irvine. He said the unauthorized dropboxes were "not secure" and that the GOP was "asking for trouble."
The California Republican Party installed dozens of unauthorized ballot dropboxes in at least four Southern California counties, where there are competitive House races this year. The party claims it did this as part of an above-board effort to legally collect and return people's ballots.
"Ballot harvesting program will continue," California Republican Party spokesperson Hector Barajas said in a statement to CNN.
Why did Republicans do this?
"Republicans are in a tough spot," Hasen said. "On one hand, you have the President, who is criticizing vote-by-mail and says it is prone to fraud. On the other hand, Republicans in California has long relied on a strong vote-by-mail operation to get out the Republican vote."
But some Democrats claimed Republicans were trying to rig the election. California Gov. Gavin Newsom said the incident proved Republicans would "lie, cheat, and threaten our democracy all for the sake of gaining power," without providing evidence that the GOP planned to tamper with ballots. Republicans deny any wrongdoing and accused Democrats of hypocrisy.
Did Republicans break the law?
Padilla's office says state law only permits election officials — not political parties — to establish dropboxes for voters to return their ballots. Therefore, the GOP-installed boxes are illegal.
Is there an investigation?
Becerra is "prepared to take action to enforce state law, should it become necessary," his office said in the cease-and-desist letter state GOP leaders.
Fresno County Clerk Brandi Orth told CNN that she received videos from a voter of improper GOP dropboxes in her area, and that she referred them to the Fresno County district attorney.
How is Trump responding?
What happens next?
The next few days will determine if this dispute escalates into a massive political showdown, leads to a full-blown criminal investigation — or if Republicans quietly decide to back down.
"I think imparting a coherent political strategy to this is a fool's errand," said CNN analyst Jessica Huseman, who covers voting rights and election administration for ProPublica. "I think it was just a way for them to stir the pot, and I don't know how effective it really was. Ultimately, the people who ended up holding the bag were Republican Party members, and nobody else."