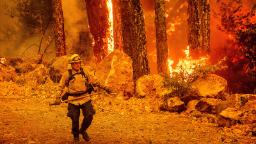 Updated 1:17 AM ET, Mon October 12, 2020
Wildfires are ravaging many areas in the West, especially in California.
As of Sunday, October 11, at least 71 large fires were burning in the West, including 19 in California, where dry, windy conditions and record-breaking high temperatures have been fueling flames for weeks. Fires burning in Oregon have destroyed more than 1 million acres in the state.
More than 3.7 million acres have burned across California. In terms of acres burned, this year is the worst in the state's history. In total, wildfires have burned 7.99 million acres, according the National Interagency Fire Center.
Editor's note: This gallery contains graphic images. Viewer discretion is advised.