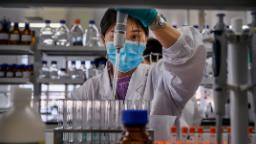 A man has escaped coronavirus quarantine in South Korea by digging a hole underneath a temporary wall at a government facility in Seoul, according to health authorities.
Health official Son Young-rae said Wednesday that the man, an Indonesian sailor, entered the country on a seafarers' visa and began his quarantine on September 21.
He was due to be released on October 5, but dug his way out of the facility the day before.
According to Son, the man's Covid-19 test result was negative when he entered the country and he didn't show any symptoms of coronavirus.
Police are still searching for the man and analyzing CCTV footage. Since the incident, additional CCTV cameras have been installed at the quarantine facility and more police officers have been dispatched to the center, Son said.
Foreigners who arrive in South Korea must quarantine at a state facility for 14 days unless they are residents of the country.
The situation in South Korea: On Wednesday, authorities reported 114 new coronavirus infections nationwide, of which 94 cases were locally transmitted and 20 imported.
The total number of confirmed cases for the country stands at 24,353, including 425 deaths.
South Korea is experiencing a fresh wave of cases, prompting authorities to restrict gatherings.