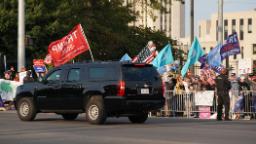 It's been more than two days since President Donald Trump was airlifted to Walter Reed National Military Medical Center, but Americans remain largely in the dark about the trajectory of his infection with Covid-19 and the specifics of his condition as the White House tries to control the optics of his illness with misleading briefings, posed images and even a reckless photo-op outside the hospital.
A governing crisis: Some seven months into a pandemic that has killed more than 209,000 Americans, the nation is now facing a grave governing crisis with its commander in chief hospitalized, as the White House events of the past week serve as a textbook example of how not to handle a deadly virus.
Lack of information: The White House already has a huge credibility problem with the public, and the lack of on-the-record information from White House officials over the weekend served as a master class in opacity and contradiction that raised major questions about the President's health.
Concern about optics: For much of this year, Trump has spun an alternate reality about the dangers of coronavirus — disputing science and the efficacy of masks, downplaying the risks to the American people, and making false statements about how 99% of coronavirus cases in America are "totally harmless" or that the virus "affects virtually nobody."
Rallies and rapid tests: Trump encouraged his aides and advisers to live in that dangerous fantasy land, pushing his luck to the limits as late as this past week when he again recklessly gathered thousands of unmasked Americans at his political rallies and packed the top officials in government into a Rose Garden ceremony for his Supreme Court nominee. All the while, White House officials embraced the fallacy that administering rapid coronavirus tests frequently at the White House could provide a shield of immunity.
Read the full story: