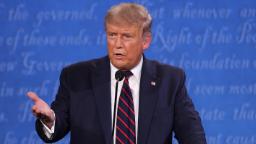 If his goal during the first debate on Tuesday was to obscure his coronavirus record, Trump may have been successful,
Eric Bradner and Kevin Liptak write
. Despite Joe Biden's attempts to inject it back into the discussion, the debate devolved into arguments and bickering that ultimately did not center on the global pandemic, which has now killed 1 million people.
But there were moments where Biden, who has a 47-year career in politics, cut through.
Speaking directly to families who now have an "empty seat at the kitchen table,"
Biden slammed the President for having "no plan"
to contain the virus, or limit its impact on the American economy. He added, "You should get out of your bunker and get out of the sand trap and your golf course and go in your Oval Office and bring together the Democrats and Republicans and fund what needs to be done now to save lives."
Instead of mounting a robust defense of his administration's response to the crisis, Trump mocked Biden for wearing a mask, sought to claim that were Biden president, he would have done worse, and alleged that the former-VP wanted to shut down the economy. Check out our fact-check of those claims below.
FACT-CHECKING COVID-19 FALSEHOODS FROM THE DEBATE
Coronavirus and masks
In a heated exchange with Biden, Trump said that Dr. Anthony Fauci changed his mind about the impact of wearing masks.
Fauci explained that in the spring, "we were not aware that 40 to 45% of people were asymptomatic, nor were we aware that a substantial proportion of people who get infected get infected from people who are without symptoms. That makes it overwhelmingly important for everyone to wear a mask." — Jen Christensen
Coronavirus and the economy
Trump claimed several times that Biden wants to shut down the country to address the coronavirus, while he wanted to keep it open.
Facts First: This is false. Biden said in an August interview with ABC that he would shut down the country if scientists told him it was necessary — but he has not himself advocated a shutdown or introduced a shutdown plan. Additionally, he clarified his comments after the interview, saying in September, "There is going to be no need, in my view, to be able to shut down the whole economy."
Coronavirus and travel restrictions
Trump referenced the travel restrictions his administration imposed on foreign nationals who had been in China, then attacked Biden for remarks he had made the same day: "I closed it, and you said, 'He's xenophobic. He's a racist and he's xenophobic,' because you didn't think I should have closed our country."
Facts First: This needs context. It's not clear Biden even knew about Trump's China travel restrictions when he called Trump xenophobic on the day the restrictions were unveiled; Biden has never explicitly linked his accusation of xenophobia to these travel restrictions.
ON OUR RADAR
TODAY'S TOP TIP
The coronavirus is leading to a secondary pandemic — hunger. The need for emergency food has exploded since March of 2020. According to an Oxfam report, this hunger crisis could soon kill more people each day than the infection itself.
TODAY'S PODCAST
"We were very concerned, obviously, about what we could do to control exposure inside the athletic environment. And so we have very specific protocols … not using locker room areas, not showering, they're not changing." — Dr. James Borchers, Ohio State University football team physician