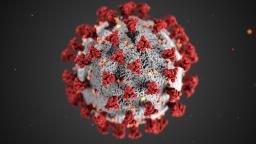 They also have the potential to transform the way governments react to the pandemic, enabling officials to more quickly detect and respond to outbreaks before they spread.
"High-quality rapid tests show us where the virus is hiding, which is key to quickly tracing and isolating contacts and breaking the chains of transmission," Tedros Adhanom Ghebreyesus, WHO director general, said. "The tests are a critical tool for governments as they look to reopen economies and ultimately save both lives and livelihoods."
The news, which came as the world eclipsed 1 million Covid-19 deaths, is a small ray of hope in the fight against the virus.
Also on Monday,
President Donald Trump
announced a plan to ship 150 million rapid coronavirus tests purchased by the US federal government to states in the coming months, marking a pivot away from his previous claims that increased testing would lead to more cases.
YOU ASKED. WE ANSWERED
Q: What's the difference between rapid diagnostic tests and other viral tests?
A:
Rapid diagnostic tests
, which do not need to be sent to labs for analysis, can deliver results within an hour or less based on a quick swab of the nostrils. They look for antigens, or pieces of coronavirus proteins, and perform best when a person is tested in the early stages of infection when the viral load is highest.
But those tests can be less accurate than the diagnostic tests being used most widely, which use a method called PCR — considered the "gold standard" for detecting the coronavirus. The
PCR test
looks for signs that the virus is in your body, by detecting the presence of its genetic material in a swab sample from your nose or throat. The test is time-intensive though, and it can take anywhere from a day to a week to get the results back from a laboratory.
Send your questions here
. Are you a health care worker fighting Covid-19? Message us on WhatsApp about the challenges you're facing: +1 347-322-0415.
WHAT'S IMPORTANT TODAY
Turmoil plagues Trump's pandemic response teams on eve of debate
President Donald Trump heads into Tuesday's first crucial debate with Joe Biden as the US government's coronavirus mitigation effort is in turmoil,
Stephen Collinson writes
.
In a sign of the discord plaguing the administration's Covid-19 response, CDC Director Robert Redfield and Dr. Deborah Birx did not appear at Trump's event on Monday announcing the rollout of rapid testing. But his new favored counselor,
Dr. Scott Atlas
— a neuroradiologist who joined the White House Coronavirus Task Force in August and has drawn the ire of public health officials who say he is telling Trump what he wants to hear about the pandemic — got a speaking role.
Dr. Anthony Fauci, the government's top infectious disease expert, who has been marginalized by Trump, was asked by CNN's Brian Stelter at an event on Monday whether there was acrimony behind the scenes. "Most are working together. I think you know who the outlier is," Fauci said.
Pre-Election Day push for stimulus deal is underway
House Speaker Nancy Pelosi and Treasury Secretary Steven Mnuchin, who have cut several major deals during the pandemic, are trying one final time to ease a bitter standoff on Capitol Hill over a
pre-Election Day package
to provide relief to millions of Americans reeling from the economic crisis.
Pelosi and Mnuchin have spoken several times in recent days, including Monday night, and plan to again on Tuesday. And while most on Capitol Hill are deeply skeptical a deal can be reached, both Pelosi and Mnuchin have aligned interests: The speaker is facing growing pressure from vulnerable House Democrats, particularly freshmen, to cut a deal immediately, while President Donald Trump wants a legislative accomplishment to tout in the final weeks of the campaign. l
FDA pauses Inovio's vaccine trial
Biotechnology company
Inovio's planned Phase 2/3 coronavirus vaccine trial
has been put on a partial hold, the company announced on Monday. The US Food and Drug Administration notified Inovio that it has additional questions about its planned Phase 2/3 trial of the vaccine candidate INO-4800, including questions about the device to be used as part of delivering the vaccine in the trials. This partial clinical hold is not due to any adverse events, the company said.
Some context: Inovio's Covid-19 vaccine is being funded, in part, by the US Department of Defense, the Bill & Melinda Gates Foundation, and The Coalition for Epidemic Preparedness Innovations. The company has not received funding from Operation Warp Speed, the Trump administration's initiative to fast-track the development and delivery of a Covid-19 vaccine.
ON OUR RADAR
TODAY'S TOP TIP
The pandemic might have a silver lining for kids going through puberty in communities where nearly all schooling is virtual. While many kids are missing their peers, psychologist Lisa Damour says the playground isn't always the healthiest place to learn about bodily changes, such as periods. She offers these
tips for parents
whose children are going through puberty during the pandemic:
Virtual schooling can offer kids a break from social pressure.
There's no one "talk." Instead, invite your child to ask questions where and when they feel comfortable.
Books can help. Pick up a volume with expert advice for your child (and maybe yourself).
Be honest about what's happening in the world. At the same time, remind your child of the things — such as your love — that will stay the same.
Work to establish new family routines, including essential time for self-care.
Follow your kid's lead on their social life, whether they're yearning for in-person hangouts or happy to keep it virtual on TikTok.
TODAY'S PODCAST
"Now is really the time. In fact, Dr. Anthony Fauci told me you should get your shot no later than the end of October." — CNN's Chief Medical Correspondent Dr. Sanjay Gupta
When should you get a flu shot? There's no time like the present. Dr. Gupta explains why on today's podcast.
Listen Now
.