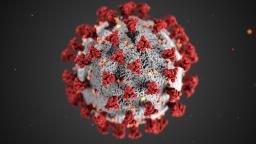 The staggering scale of that loss is hard to fathom. It's equivalent to suffering the effects of 109 Hurricane Katrinas. Or enduring the 9/11 attacks every day for 66 days.
YOU ASKED. WE ANSWERED
Q: Who does the coronavirus actually affect?
A: At a campaign rally in Ohio on Monday, Trump said Covid-19 "affects elderly people, elderly people with heart problems and other problems. If they have other problems, that's what it really affects. That's it." He also doubled down on previous claims that young people are "virtually immune," before adding, "it affects virtually nobody."
Facts First:
Trump continues to try to falsely narrow the scope of who's affected by Covid-19.
For one, it's not true that the virus only affects elderly people with heart or other health problems
. It's also clearly not true that the virus "affects virtually nobody." Trump's comments ignore warnings from public health officials about how contagious the virus is. Even if people who catch the virus don't get that sick, they are still liable to transmit it to others who may be more at risk. Research shows the effects of getting the virus can also be long-lasting.
Send your questions here
. Are you a health care worker fighting Covid-19? Message us on WhatsApp about the challenges you're facing: +1 347-322-0415.
WHAT'S IMPORTANT TODAY
Trump and Xi spar over virus at UN General Assembly
The presidents of the US and China sparred in their speeches to the annual United Nations General Assembly on Tuesday, promoting drastically different versions of how the pandemic has unfolded.
President Trump blamed China for "unleashing this plague onto the world" and called on the UN to hold Beijing accountable. Meanwhile, President Xi painted the pandemic as a global challenge and hailed his country's response. Read
James Griffiths' analysis
of those dueling realities.
Boris Johnson's early Christmas present to Britain: Six months of coronavirus gloom
Faced with a surge in coronavirus cases across the UK, Prime Minister Boris Johnson has announced new measures to combat the virus, including a 10 p.m. curfew for restaurants and bars, and restrictions — enforceable by the police — on how people can socialize,
Luke McGee writes
.
Johnson issued a plea for those who are able to work from home to do so until the virus is under control — just weeks after the government launched a high-profile campaign encouraging people to return to their offices and workplaces. And he announced that face masks will be made mandatory for staff in the hospitality and retail sectors, and for passengers in taxis. Moreover, the masks mandate will become law, not just guidance.
In political turmoil and economic collapse, Lebanon could now be overwhelmed by Covid-19
Coronavirus cases have skyrocketed in Lebanon, raising the specter of new lockdown measures that would deepen the country's already desperate financial crunch,
Tamara Qiblawi reports
.
A combination of high infection rates, a floundering economy and renewed political turmoil could signal a new phase in Lebanon's slew of crises, which began after a popular uprising last October. In addition to a growing financial crisis, healthcare professionals are warning that Lebanon's fragile medical sector could soon be overwhelmed, leaving the country at risk of a rapidly rising death toll from Covid-19.
ON OUR RADAR
TODAY'S TOP TIP
If you are among the many people who have returned to the office, you may be wondering whether it's safe to take an elevator. It's best to take the stairs if you can, emergency room physician Dr. Leana Wen says. But if that's not an option, she offers these tips:
Wear a mask. Not only does wearing a mask reduce your risk of inhaling the virus — which can linger in the air for 8 minutes — it also helps reduce your chances of infecting others if you are an asymptomatic carrier.
Use a tissue to push the elevator buttons. If you don't have a tissue, use your elbow, then wash or disinfect that area when you can.
Try to keep your distance from anyone else inside the elevator as much as possible.
TODAY'S PODCAST
"The idea of two hundred thousand deaths is really very sobering. And in some respects, stunning." — Dr. Anthony Fauci
CNN's Chief Medical Correspondent Dr. Sanjay Gupta checks in with the country's leading infectious disease expert on the US death toll, vaccine trials, strategies for slowing spread, and more.
Listen Now
.