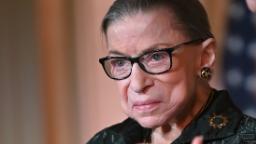 Supreme Court Justice Ruth Bader Ginsburg died on Friday from complications of metastatic pancreatic cancer.
Ginsburg was diagnosed with pancreatic cancer in 2009. Earlier this year, she announced a recurrence of the cancer, having discovered lesions on her liver. 
Experts say that about 95% of people diagnosed with pancreatic cancer will die from it. There are currently no general screening tools for pancreatic cancer, and there are often no symptoms in the early stages, when the tumor would be most treatable. The cancer is often discovered at more advanced stages, sometimes when it has spread to other organs, known as metastasis. 
The National Cancer Institute named pancreatic cancer as the third-leading cause of death from cancers, after lung and colorectal cancers in 2018.  The institute says that about 10% of people diagnosed with pancreatic cancer will survive for five years or more.
The American Cancer Society estimates 57,600 people will be diagnosed with pancreatic cancer in 2020 and 47,050 will die due to the cancer. 
Some context: Ginsburg is the second icon lost this year who battled with pancreatic cancer. 
Civil rights icon and late US Democratic Representative John Lewis was diagnosed with stage 4 pancreatic cancer last year and died this July. 
Higher rates of pancreatic cancer are seen in men and African Americans. The risk of pancreatic cancer also increases with age. The average age of diagnosis is 71, and nearly 90% of patients are older than 55. 
CNN's Elizabeth Landau contributed to this report.