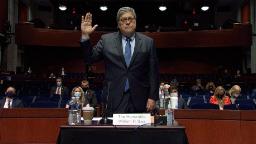 In his opening remarks, House Judiciary Chair Rep. Jerry Nadler said Attorney General William Barr has failed to uphold central missions of the agency, including being an impartial administrator of the law and enforcing civil rights laws.
"Your tenure has been marked by a persistent war against the department's professional core in an apparent attempt to secure favors for the President," Nadler said. "Others have lost sight of the importance of civil rights laws, but now we see the full force of the federal government brought to bear against citizens demonstrating for the advancement of their own civil rights."
"There is no precedent for the department of justice to actively seek out conflict with American citizens under such flimsy pretext or for such petty purposes," Nadler continued.
"In the hands of President Trump, a Department of Justice that adopts a dangerously expansive view of executive power and demonstrates a willingness to shield him from accountability, represents a direct threat to the liberty and safety of the country," Nadler said.
Leading up to today's hearing, Nadler has been investigating several of Barr's actions and had threatened to subpoena the attorney general before they agreed on Tuesday's appearance.
Last month, after Trump had Barr fire the US attorney in Manhattan who had been overseeing an investigation into the President's personal lawyer Rudy Giuliani, Nadler suggested that his committee might attempt to impeach Barr, though he also called pursuing it a "waste of time" and House Speaker Nancy Pelosi has tamped down talk of impeachment.
"Barr's priorities are clear: Trump first, America second," Nadler said earlier this month. "There is one rule for the President and one rule for the rest of us. Barr is corrupting DOJ at all costs to protect the President and subvert the election."
Hear his remarks: