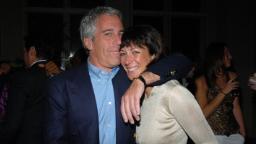 FBI New York Assistant Director in Charge William Sweeney said that bureau officials "have been discreetly keeping tabs" on Maxwell who had "slithered away to a gorgeous property" in New Hampshire.
"We learned she had slithered away to a gorgeous property in New Hampshire, continuing to live a live a life of privilege while her victims continue to live with the trauma inflicted upon them years ago. We moved when we were ready and Ms. Maxwell was arrested without incident," he said.
Sweeney said that the FBI, along with the NYPD, arrested Maxwell in Bradford, New Hampshire, this morning without incident.
Audrey Strauss, acting US Attorney for the Southern District of New York, explained the process that led to Maxwell's arrest: "an eye was being kept, and information was being collected and then the indicted was just recently voted and filed and that is when we were able and prepared to move to arrest her."
Sweeney said that indictment alleges that from 1994 until 1997, Maxwell assisted Epstein in committing crimes against minors.
He said she would "recruit, entice, groom, and abuse" Epstein victims who were under 18. He added that FBI also "alleged Ms. Maxwell lied under oath."