The German interior ministry and the Czech foreign ministry have published a list of countries outside the European Union whose citizens will be allowed entry.
The set of countries for Germany is:
Australia
Georgia
Japan
Canada
Montenegro
New Zealand
South Korea
Thailand
Tunisia
Uruguay
China
Meanwhile, the Czech Republic also published its travel list on Tuesday, which is down to eight countries:
Australia
Canada
Japan
Montenegro
New Zealand
Serbia
South Korea
Thailand
EU opens its borders — but not to Americans: The European Union Tuesday formally agreed a set of recommendations allowing travelers from outside the bloc to visit EU countries, months after it shut its external borders in response to the outbreak of Covid-19.
The list of countries included in the EU recommendations are: Algeria, Australia, Canada, Georgia, Japan, Montenegro, Morocco, New Zealand, Rwanda, Serbia, South Korea, Thailand, Tunisia, Uruguay.
As had been widely expected, the list of 14 countries did not include the United States, whose current Covid infection rate does not meet the criteria set by the EU for it to be considered a "safe country."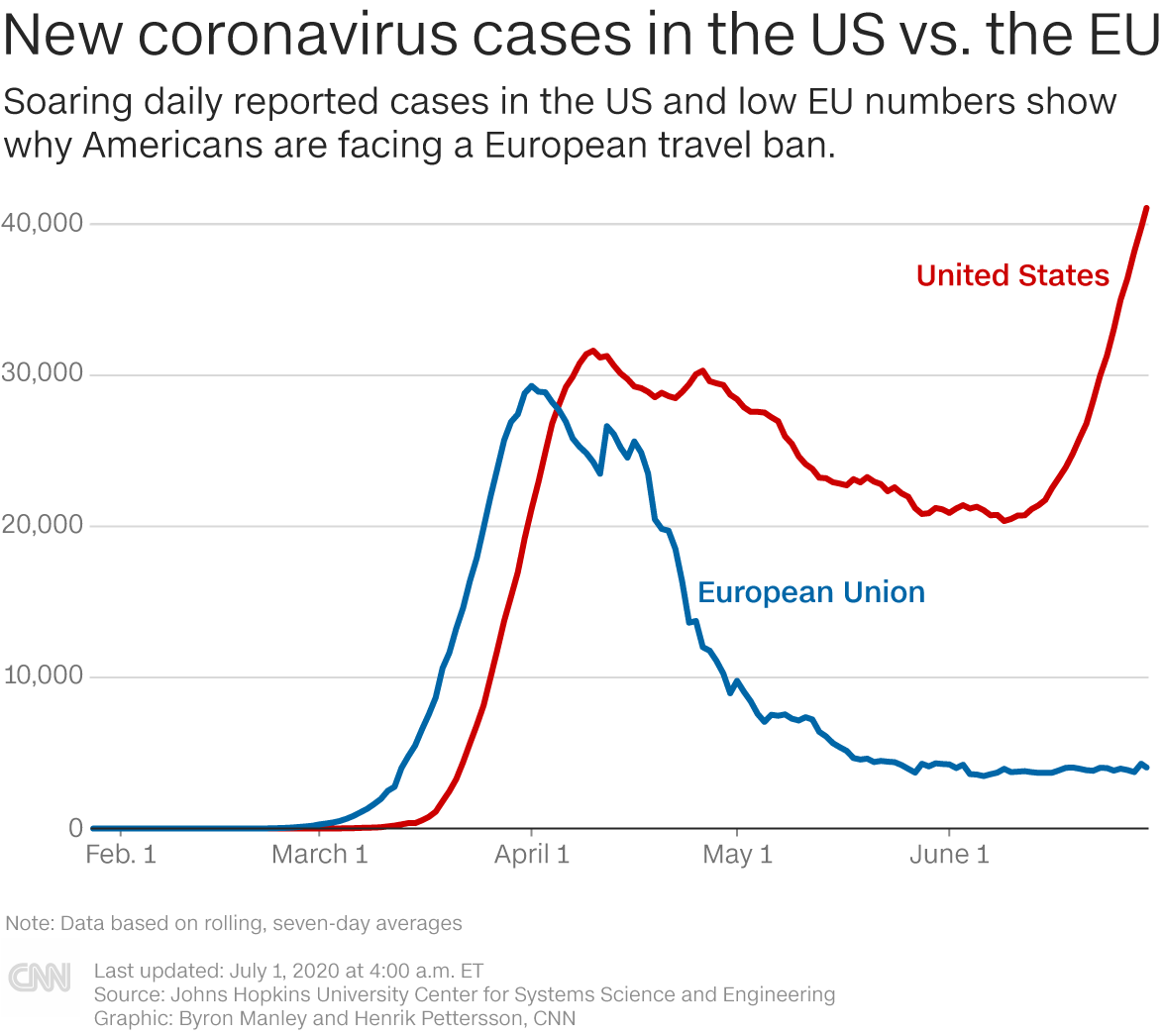 The criteria requires that confirmed Covid cases in countries on the list are similar or below that of the EU's per 100,000 citizens over the previous 14 days (starting from June 15).
Countries must also have a "stable or decreasing trend of new cases over this period in comparison to the previous 14 days," while the EU will consider what measures countries are taking, such as contact tracing, and how reliable each nation's data is.
The US has not only the highest number of reported coronavirus infections of any nation, but also the highest number of deaths, according to the latest data from Johns Hopkins University.
US infection rates will need to dramatically drop if Americans are to be allowed entry to EU countries, just as the European tourism industry enters what are traditionally its peak months.