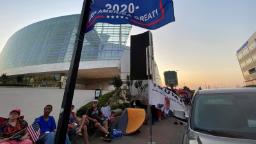 Trump is seeking to shift public attention from his especially
difficult week
, which included a series of unflattering
bombshells
revealed in a new book by his former national security adviser
John Bolton
, who described Trump as unfit for the White House, and two
setbacks
for his administration on LGBTQ rights and immigration at the Supreme Court. Late on Friday night, Trump's attorney general
tried to oust a powerful US attorney
who has investigated a number of associates of the President, but the Manhattan prosecutor refused to step down.
The President hopes to demonstrate
vigor and resolve as America faces a pandemic, an economic crash and impassioned demonstrations against racism, while casting his rival
Joe Biden
as an aging political relic whose supporters lack enthusiasm for his bid. Trump's campaign spokesman told CNN this week that the rally will
signal
to the rest of the country "that it's time to get things moving again."
Relishing his instinct to divide at a time when he is trailing the former vice president by double digits in national polls, Trump sparked fears of confrontations in the streets of Tulsa when he warned in a Friday tweet that protesters would not be tolerated by law enforcement.
"Any protesters, anarchists, agitators, looters or lowlifes who are going to Oklahoma please understand, you will not be treated like you have been in New York, Seattle, or Minneapolis. It will be a much different scene!" he tweeted.
Health concerns abound in Tulsa
Trump, who has asserted that the virus is "fading away" — in direct contradiction to the facts — has acknowledged that he and his advisers initially chose the Tulsa rally site in part because Oklahoma, a deep red state that has long voted Republican, appeared to have a lower incidence of coronavirus cases.
During a news conference Wednesday, the director of the Tulsa Health Department, Dr. Bruce Dart, said Tulsa set a new daily record for coronavirus cases this week.
"Let me be clear. Anyone planning to attend a large-scale gathering will face an increased risk of becoming infected with Covid-19," Dart said.
Tulsa County Commissioner Karen Keith expressed alarm about the scene in the streets of Tulsa during a Friday interview on CNN's "The Situation Room."
"Nobody is wearing masks, and you know people are coming in, Wolf, from all over the country — so they could be coming in from hot spots," Keith told CNN's Wolf Blitzer, noting that the city is expecting an additional 40,000 to 60,000 people outside the arena. "We love to welcome people to our city, but right now since we're in a spike… the timing is very difficult."
Trump's campaign has said it plans to do temperature checks and provide hand sanitizer and masks to attendees, but no one will be required to wear one.
"By attending the Rally, you and any guests voluntarily assume all risks related to exposure to COVID-19 and agree not to hold Donald J. Trump for President, Inc.; BOK Center; ASM Global; or any of their affiliates, directors, officers, employees, agents, contractors, or volunteers liable for any illness or injury," the disclaimer said.
But he acknowledged this week that wearing masks has become a politically polarized issue. In an interview with the Wall Street Journal, he said it was possible some people are wearing masks to show their disapproval of him.
Still, when asked by Wall Street Journal reporter Michael C. Bender whether he was comfortable with his supporters wearing masks at the Tulsa rally, Trump said, "Absolutely."
"They can wear them or not. I want them to be happy," he said.
The irony of Trump's spotlight on Juneteenth
Both Black and White leaders had pleaded with Trump to change the date.
In Kansas, for example, Democratic Gov. Laura Kelly signed a proclamation Friday declaring June 19 as Juneteenth National Freedom Day. "Juneteenth is not just a day to celebrate the end of slavery," Kelly said during a Friday news conference. "It's an opportunity to recognize a nation's conflicting history, reflect on our struggle to realize true freedom for all Americans, and pledge to continue fighting to end systemic racism."
Sen. John Cornyn, a Texas Republican, on Thursday said he'll introduce legislation to make the day a federal holiday, as did several Democratic senators.
In the Wall Street Journal interview this week Trump was quoted as saying he made "Juneteenth very famous."
"It's actually an important event, it's an important time. But nobody had heard of it," he said in the interview. He added that one young African American Secret Service agent knew what the day commemorated, but Trump said he had political people "who had no idea."
During a press briefing on Friday, McEnany said Trump "did not just learn about Juneteenth this week. That's simply not true," she said.
McEnany would not say whether the President plans to make Juneteenth a federal holiday.
CNN's Kay Jones and Hollie Silverman contributed to this report.